BUILDINGS END
---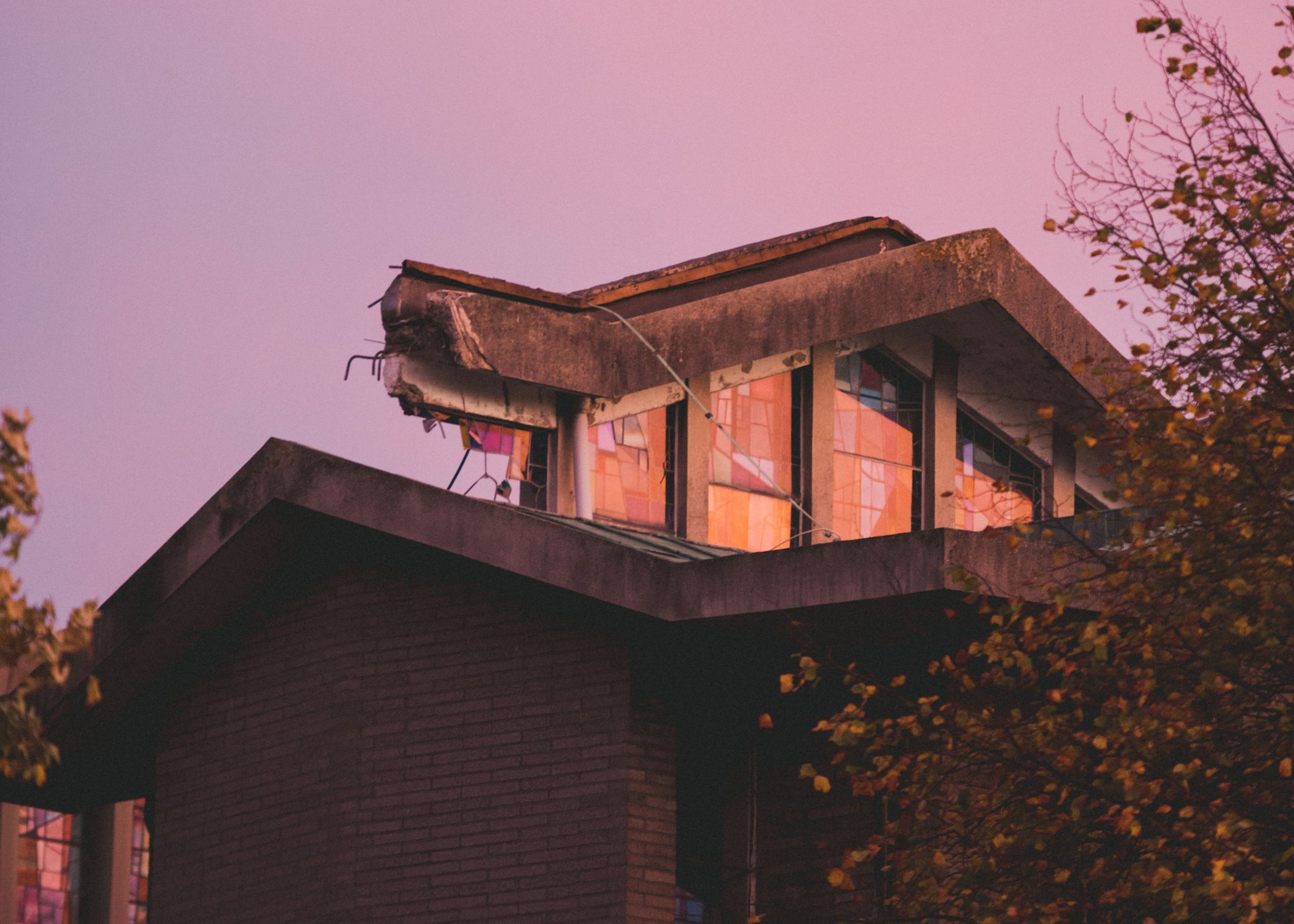 The Department of Ultimology was established by Fiona Hallinan and Kate Strain at Trinity College Dublin in 2016, as a practice for looking closely at endings.

Ultimology, as the study of that which is dead or dying, responds to a contemporary environment of anxiety around endings; a time of apocalyptic climate events and turbulent political change, threats of resurgent populism, depleted resources, rapid obsolescence and technological changes that are shifting society.

Kunstverein Aughrim supports the Department's research through collaborative curatorial activities, such as reading groups, events, exhibitions and screenings.

Buildings End is an exhibition at the Irish Architectural Archive, from 14 September - 18 October 2023. This temporary drafting room explores the subject of architecture that is at risk of demolition or degradation to create a space of attention for this phenomenon.

Three categories of 'at risk' buildings are presented, which according to architectural historian Ellen Rowley, are too young or recent to be of historical significance, yet too old to be functional or relevant in the early 21st century. The buildings most susceptible to obsolescence in 2020s Ireland are office buildings from c.1950 to c.1980, (older-than-50 years) housing blocks, and large scale 1950s and 1960s Catholic churches.

The drafting room will offer a closer look at one building in particular, the Church of the Annunciation, Finglas West, Dublin, built in 1967 and demolished in 2021. This church was the subject of Making Dust, a film by artist Fiona Hallinan that chronicles its demolition as part of a broader documented contemplation by Ellen Rowley of the socio-cultural and architectural obsolescence of this generation of Irish Catholic churches.

Together, Hallinan, Rowley and Strain, as the Department of Ultimology, consider the cultural, social and political rupture that the church's demolition represents. In the drafting room visitors will be presented with Hallinan's artwork framing collated fragments of Rowley's research on architecture and ultimology, including case studies of buildings and material from the Irish Architectural Archive and other sources.

Groups are welcome to use the drafting room as a space for guided study. For programmed talks and special viewings of the film (from 2 October 2023) please contact the Irish Architectural Archive directly at info@iarc.ie

This project was supported by the Arts Council of Ireland Visual Arts Project Award 2021 and was presented at VISUAL Carlow, Ireland, from February 4th to May 14th 2023 and from September 14th to October 18th 2023 at the Irish Architectural Archive, Dublin, Ireland.

Other upcoming Ultimological activities include; Thin Sections - a talk in the context of Marie Farrington's Glossaries for Forwardness and a participatory workshop with artist Anaïs Chabeur on 16 September 2023; and Making Dust - a screening of this documentary film work by Fiona Hallinan at the Irish Film Institute on 1 October 2023.