PULSE EVENT #1:
SONIA SHIEL & BENJAMIN HANUSSEK
---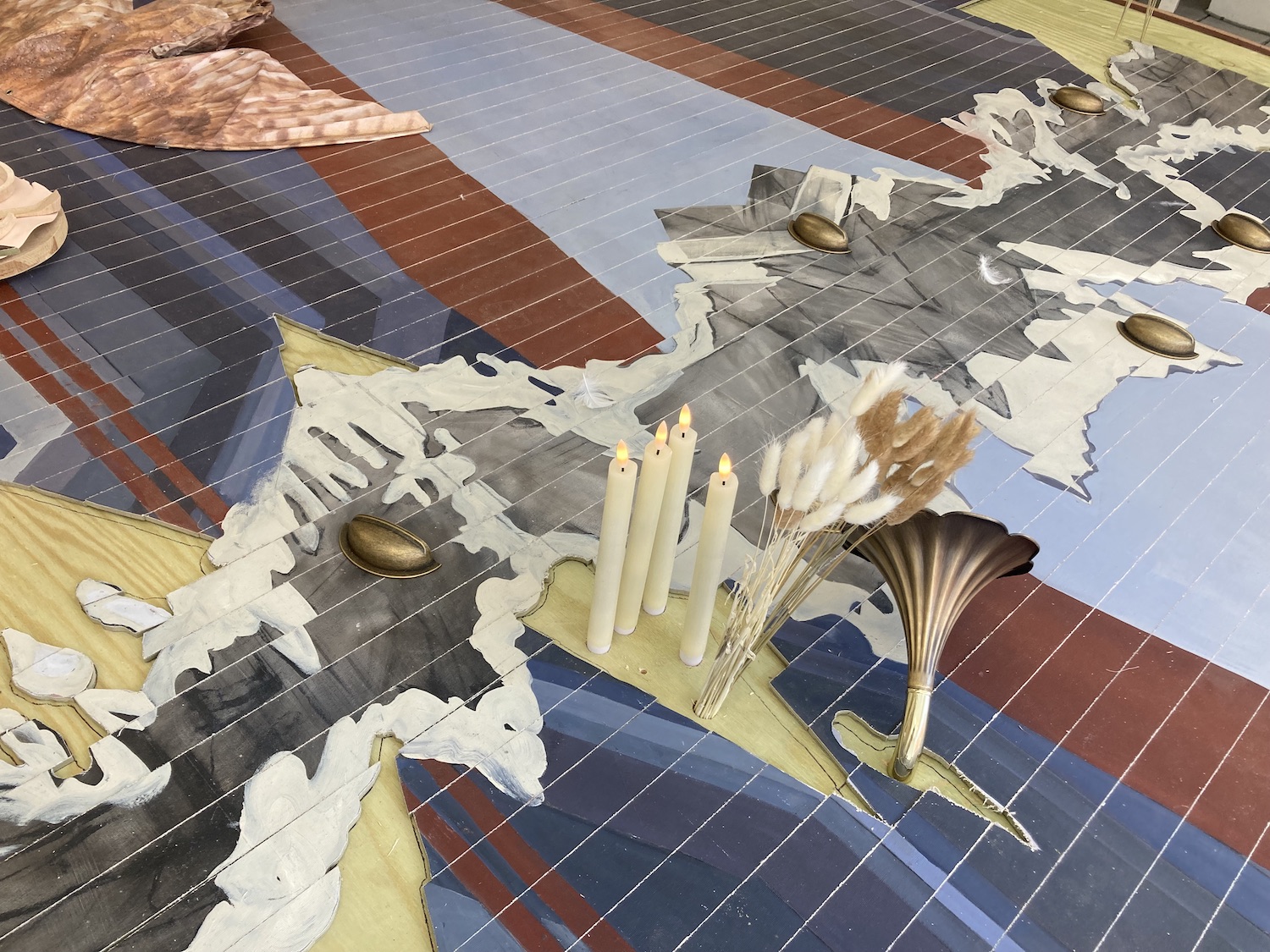 On 25 May 2023 Kunstverein Aughrim presented the first of three Pulse Events* with Sonia Shiel.

Pulse Event #1 consisted of a generative morning session and a discursive evening session, both designed to test and parse ideas within Shiel's current body of work in development, in the presence of video game researcher Benjamin Hanussek, who was invited to respond to Shiel's material speculations.

Both sessions took place in Studio 6 at Temple Bar Gallery + Studios. The morning session involved the construction of a large gaming board, on top of which three active performers were invited to reconstruct a fragmented landscape, and to engage with its terrain according to a set of carefully crafted rules. The performers undertook a series of exercises addressing morality themes, haptics, meta-techniques, and the rules that form in spaces and around objects, as well as between LARP (Live Action Role Play) characters and their authority figures, NPC's or 'non-player characters', in the construction of improvised site-responsive narratives, including those created between artworks and their audiences. Also present throughout this session were a caretaker/prop keeper, a sound maker, a videographer, two assistants/onlookers, and two NPC's (the artist and the gaming researcher).

In gaming a 'Bleed' describes the indiscretion of self as indiscernible from fiction – where the edges between two images that should not merge, do. In this Pulse Event, portals into the fields of gaming and painting were opened, in the hope of manifesting a potential creative bleed between Hanussek's gaming research and Shiel's expanded painting practice. The pitfalls and potential of this way of working were explored further in a discursive evening session between Shiel and Hanussek. This conversation explored Hanussek's current research and Shiel's burning questions to him, asking how to be intentional and anarchic, digital and analogue, rule bound and rule breaker, and whether fiction can ever have any real effect in the world, and how we might learn 'to be' better from it?



*The Pulse Event Series takes its name from Elvia Wilk's analysis of Karen Russell's description of blossoming in The Bad Graft. Russell's short story describes the relationship between the Joshua tree and the yucca moth as a metaphor for co-dependence between us and nature, and the couple at the centre of her story. Neither the moth nor the tree can survive without each other. Their relationship is consummated in a tremendous blossoming referred to by a local Mojave desert ranger as a "pulse event." Such a term is associated with bomb test-sites, when a measurable electromagnetic pulse occurs. Invariably – a pulse event is also an immeasurable event of the heart. As a series of workshops, devised by Sonia Shiel in collaboration with Kunstverein Aughrim, Pulse Events generate the opportunity for critique to advance the narrative of Shiel's current work, and positively agitate the final phase of the project's development.

Benjamin Hanussek is an educator and researcher in the field of game studies, design & development. He received his formal education at the University of Klagenfurt in Austria. In 2022 he became an Austrian Marshall Plan Fellow enabling him to visit Teachers College at Columbia University in New York to conduct a research project on game-based learning. Currently, he directs PJAIT Game Lab at the Polish-Japanese Academy of Information Technology in Warsaw where he teaches, consults and supervises video game projects. Hanussek works at Lionbridge Games as professional video game tester where he specialises in German localisations.

Sonia Shiel is an artist with whom Kunstverein Aughrim is collaborating across 2023.

Pulse Event #1 was produced by Kunstverein Aughrim, and kindly supported by Temple Bar Gallery + Studios. The event is related to Shiel's ongoing work for a major exhibition commissioned by VISUAL Carlow in September 2023.